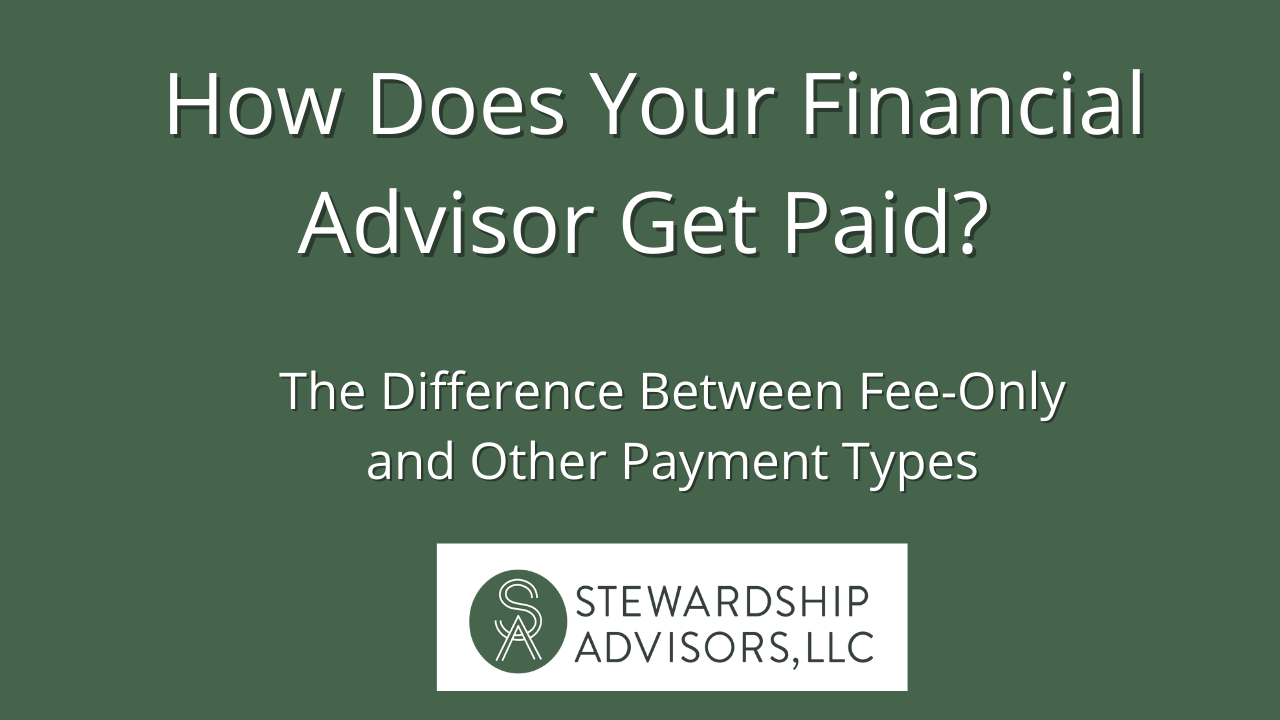 personal finance
How is Your Financial Advisor Getting Paid?
Hi everyone, this is Mark Brinser, Certified Financial Planner with Stewardship advisors here in Mount Joy Pennsylvania. I'm joined today by managing partner and Certified Financial Planner Lee Shertzer. One of the first things that we do when speaking with prospective clients is answering the question of how we get paid. So, in this video today we discuss how we get paid then also how you can determine exactly who is paying your financial advisor.
How do Financial Advisors Get Paid?
As I mentioned, today we are going to be talking about how financial advisors get paid. As a client, it is very important for you to understand exactly how your financial advisor gets paid. So I thought we would start with having Lee talk a little bit about how Stewardship Advisors gets paid and what our fee model looks like.
Here at Stewardship Advisors we really believe that the most important thing is for us to act as a fiduciary and to be fee-only. The way we work with our clients is that we focus on fees from the clients and we get paid no other way. This really makes sure that we act as a fiduciary and not in any way in anybody else's interest.
One of the other things we found, and I don't have specific data for this but I can say with a good amount of certainty: we are in the minority as far as being a fee-only firm. There are not nearly as many firms that are fee-only as those that get different compensation methods. Lee, why don't you talk about some of those other ways financial advisors get paid?
Fee-Only vs. Securities Offered Through?
The big thing – when you say "fee-only" what does that mean? That means that only our clients pay us. Why is that important? You want to follow the money. How is your advisor getting paid? We are getting paid from our clients and that is it; we have no other compensation in any other way.
Now, one of the ways that other advisors get paid is that they not only sometimes get paid from the clients where they could be paying a fee, but they also get paid from selling products that either they produced or are being given to them by a third party. So what happens is instead of just being focused on you the client, they are being pulled this way by the other pay that might be happening. That's where we've seen the problems developing.
How Can I Tell if My Advisor is Getting Paid Elsewhere?
So if you're not exactly sure how your advisor is getting paid, how would you be able to determine that quickly as a client or prospective client? The simplest way is to look at any material that they give you or any advertisement they have. If it says "Securities Offered Through" in fine print, that is when you can tell that they are getting money, or there is a high degree of likelihood that they are getting money from another source.
And remember, that is diffusing their focus. And I'm not saying that the adviser is not a good person or what they are doing isn't good, but there is this tendency of getting that pull from another place. They could be pushing a product that is giving them another revenue source other than you the client. We are accountable to our clients because they are the only ones paying us.
Stewardship Advisor: A Fee-Only Fiduciary
Like Lee said, it does not necessarily mean an advisor is a bad person; it just introduces a conflict of interest that doesn't need to be there. That's the choice we made a number of years ago and it really just creates a level of transparency because as the client you'll be able to very easily see what you're paying and whether you can see the value for what you're paying as well. So we feel that it is really important that you be able to distinguish and make those decisions as you look at the financial planners as well. If you have any questions or want to discuss this further, don't hesitate to reach out and contact us.
Like this article? Want to learn more about how to manage your personal finances?
Check out our Personal Finance Archives where we've compiled useful tips and tricks to help you plan your financial future.