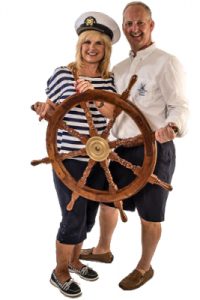 W. Lee Shertzer
On the personal side:
Lee is husband to Kris and dad to Nathan and Heather. He is proud of his son, Nathan, who works for Clark Associates, Inc. as Head of Purchasing Consumables and his daughter, Heather, who is working as a Graphic Designer at the Worship Center in Leola.
Lee's faith has been an important part of his life since childhood, when the seed was planted by his parents who have pastored churches in Pennsylvania and Ohio. He has shared his gift of caring about others by serving at his church throughout the years. For the past 30 years, he served as Junior Youth and MYF Leader, Sunday school teacher, and other leadership roles.
When Lee is away from the office, he enjoys sailing on the Chesapeake Bay with his wife. Sailing has allowed him to spend time with his family and friends while still being challenged by the wind and the waves!
Something you may not know about Lee:
His family's history was working in farmers' markets. His grandparents and both parents worked in markets in Lancaster County. Lee owned a franchise market with Richard M. Heagy's Meat & Cheese when he was 20 years old, managing two locations in Allentown. This experience as a young adult gave Lee leadership and business skills that equipped him to move into his next career.
​
P.S. The W stands for Wilbur