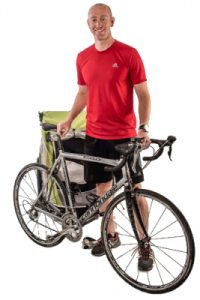 Mark Brinser
On the personal side:
Mark met his wife, Erin, at Messiah College, and they have two children, Noah and Gavin. When he is not busy at work, you will usually find Mark in the beautiful outdoors. Whether it is riding a bike, skiing, running, hiking as a family, or playing games in the backyard, Mark believes there is always an adventure waiting just outside the office walls. Mark also enjoys traveling. While that can be difficult with two toddlers, he loves exploring with his family and watching them experience new places.
Something you may not know about Mark:
Mark grew up playing many sports. The competitive "bug" has never quite left his system, which has led him to the sport of triathlon. The first leg of the triathlon is the swim, which is often the most chaotic part of the race. Since everybody starts in the water, it's not uncommon to be kicked, pulled from behind or pushed into the water as someone swims over you. While Mark considers himself an average swimmer, he does have one advantage over other competitors. He is the youngest of four boys, which means "rough play" was common in his household!