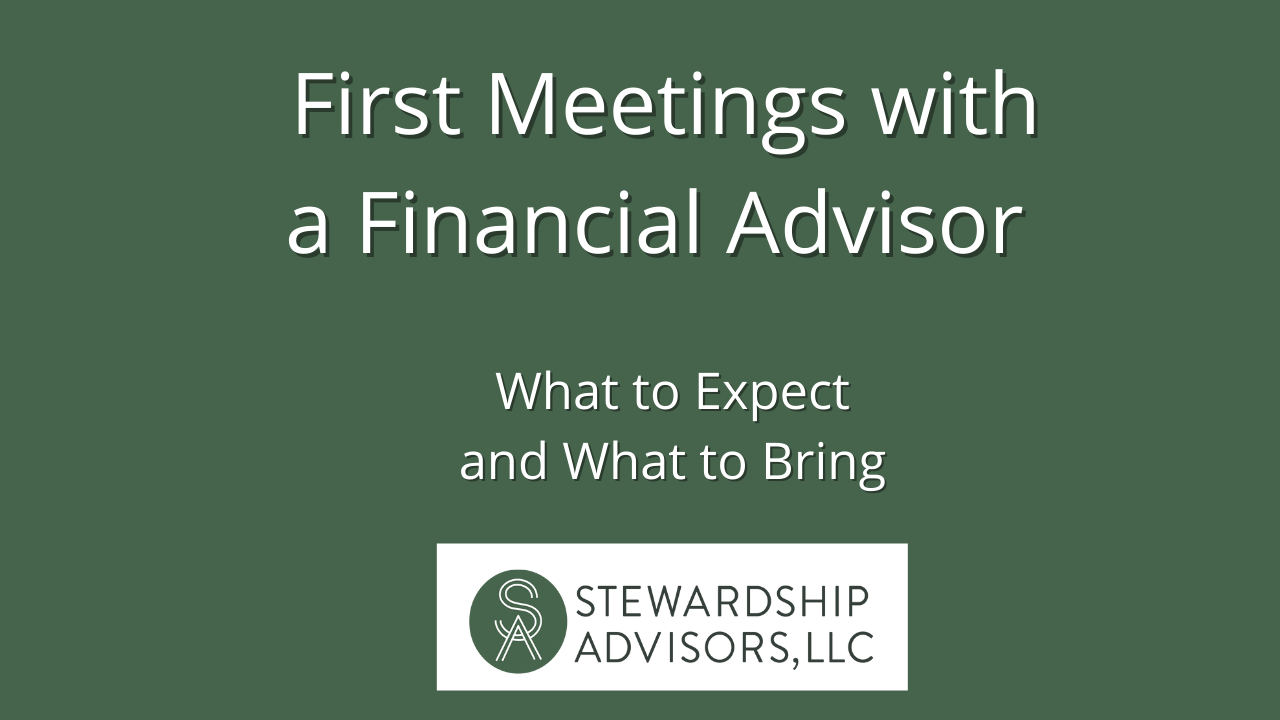 personal finance
What to Expect at Your First Meetings with a Financial Advisor
Video Transcription
Hi, I'm John Simpkins. I'm a partner here at Stewardship Advisors, and I just finished meeting with a new contact. Some of you might refer to them as a referral, but this came in from one of my existing clients. I like to think of them as connections because my clients have trusted me enough to connect me with people they care about.
The Explore Stage
You can see here; we just finished the engage meeting. This is actually step two of our four-step planning process. The first step we call our explore stage. Where we meet, and we determine if there's a fit. The explore meaning is learning about each other. People share about what they're looking for in a relationship with a CERTIFIED FINANCIAL PLANNER™ who's fee-only and we share about the work that we do and the relationships that we have with our clients.
We have two types of relationships that can be summarized in this way. Either as a project-based work or an ongoing relationship. A project-based work example would be like creating the financial plan but then, they would implement it themselves. The ongoing relationship is when we create the financial plan but then, we also implement it for them.
The Explore Meeting is a no-cost, no-obligation, no-decision meeting where we focus on just learning about each other. We follow up with the phone call two days later to see if working together makes sense. We learned that moving the decision piece to after the meeting gives individuals the time to think, reflect, and removes the emotional stress of making an emotional decision at the end of the explore meeting. We feel this enables us to start off in a trusting relationship.
The Engage Meeting
So, what you see in front of me is the information we collect at the beginning of the engage meeting. The engage meeting is as I said, step two of our four-step process. This is where all the paperwork gets completed, lots of information is gathered, and we start creating the Wealth Stewardship Plan (WSP). This is a way to take inventory of where you're at and helps us create the framework for moving forward. We need to understand a lot about you before we can start making recommendations.
Taking Inventory is Well Worth it
I have to admit that some clients share that this part of the process; gathering all the information; can be a little annoying to them. The reason they say this is because we ask for a lot of information, and their information is scattered over a number of different areas. So, finding it, then bringing it in, and gathering it together can cause a little frustration. Once clients start handing it off to us, we start organizing it and putting it together in a way that is easy to access when needed, and it can simplify their life. Creating this detailed Wealth Stewardship Plan starts, as I said, taking inventory. Where you are today?
Your Vision and Your Values
Along with taking inventory, we also ask lots of questions about your vision and values. The inventory part helps determine your starting point, but your vision and values helps us understand what you want to achieve. This is very important to us. This is a deep dive into understanding you in a fuller way. Helps us to understand what's important to you, and what should be included in your financial plan. We like to show this understanding of your values and vision because we need to reflect those back to you in clarity in the outline of your financial plan.
Envision Stage, The Blueprint
After the Engage meeting, we move into the meeting which we call Envision. This is the third in the series of four meetings. The Envision meeting is when we start with the Wealth Stewardship Plan and review the information making sure everything is in there correctly because I like to refer to this as our blueprint. This is a location we go back and as we're making the plan and reviewing everything, that's our source. We need to go back as we construct your financial plan, and create the action steps to help it to get implemented. So, this is our guide as we move forward into the last meeting. The last meeting is called Enlighten.
The Enlighten Stage, Creating Action Steps
This is the meeting that the wealth stewardship plan is completed. Action steps are created, and responsibilities are assigned to the appropriate individual. We now have a clear path moving forward. As you can see, this process is focused on you. It's created around your vision and values to make sure your Wealth Stewardship Plan provides the blueprint for your success. This is just the start of walking with you along your journey.
Thanks for stopping by. Have a wonderful day.