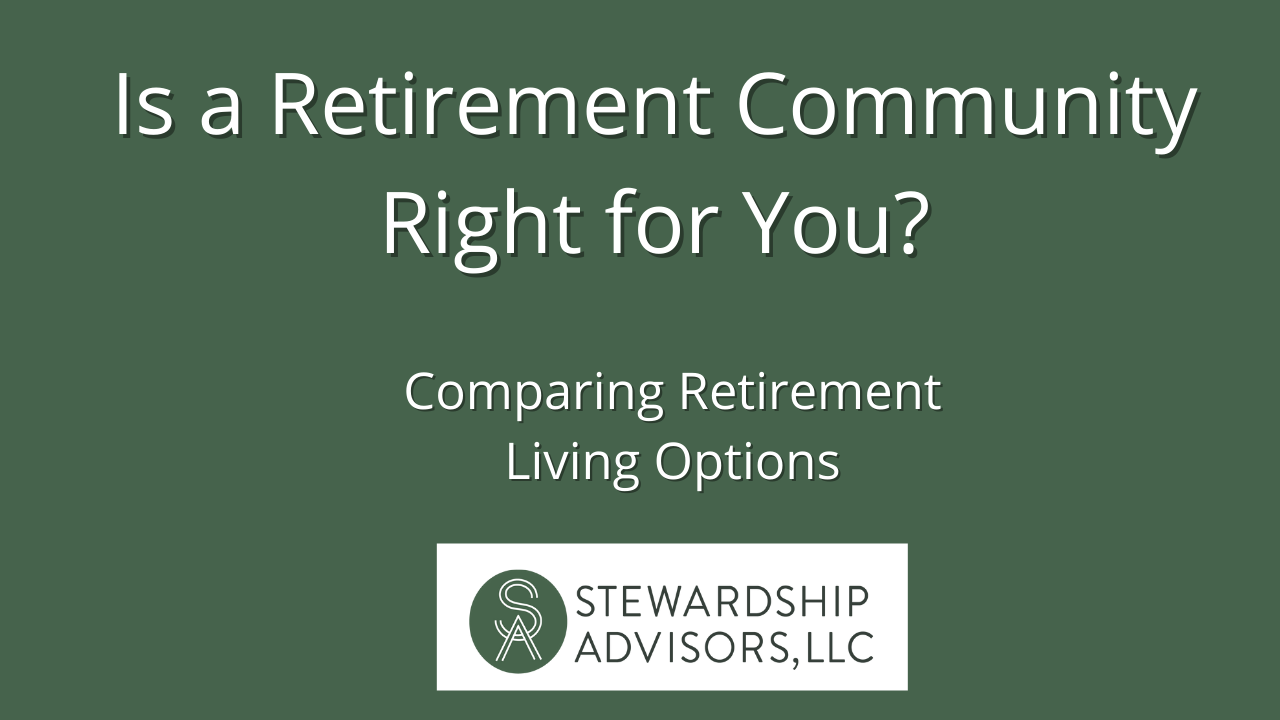 Retirement
Retirement Communities: Are They Right for You?
Transcript
Hello, my name is Lee Shertzer. I'm a partner at Stewardship Advisors and I'm here to talk about retirement communities, like this one here that I'm at today, and how to decide. I thought it'd be helpful to do an overview of things to think about as you look at retirement community living. While this is just an overview, it should help you start thinking about it for yourself or for your parents and whether a retirement community is a good option. Of course, a deeper discussion based on your unique set of circumstances is the best way to process some of these important questions. We have walked with many of our clients as they have considered whether a retirement community is right for them.
What is a CCRC?
Now, we are blessed to have many non-profit retirement communities in this area. For this discussion, I will be focused on these nonprofit retirement communities, often referred to as continuing care retirement communities or CCRC. What is a CCRC? It is a community that can provide everything from independent living to nursing care of all levels.
There are two ways to get into a retirement community. The first way is because you want to and the other way is because you need to.
Going to a retirement community because you want to would mean that you have little or no current medical conditions. So, why would you go? Well, number one would be to be part of an active group of people your same age. This would provide easy, accessible socialization which can be very beneficial to one's mental well being particularly as we get older and the second one would be to provide more certainty of where and how your care will be handled later if you need it.
Cost for Retirement Communities
What is the cost? First, there will be an entry fee. Now, this entry fee generally is the value of your home. So, what you end up doing is you sell your home, and you use that as your entrance fee to go into a retirement community. Now, once in a retirement community, then, you pay a monthly maintenance fee. Now, this monthly maintenance fee is generally the upkeep cost including your real estate taxes of your home before you moved in here. Now, if later, you need nursing assistance, then, you would move from a monthly maintenance fee to a daily rate charge of care. Now, this can range anywhere from 200 to 350 or more dollars a day depending on the level of care that you need.
Downsides to Entering a CCRC
So, what might be the downside? Well, in most cases, you do not get your entry fee back. Remember, this was about the value of your house. So, if you would have kept and maintained your home, it often grows to substantial value that can be passed on to your heirs. Now, let's discuss what it would look like if we wait till we need care. We can just stay in our own home till then, right?
Waiting until you need care
If you wait till you need care, then you can skip paying the entrance fee and go right to paying the daily rate charge we mentioned above. Again, remember, it's that two hundred to three hundred and fifty dollars a day or more for nursing costs depending on the level of care, but there's a possible downside of waiting. You might not be able to get into the nursing care that you want. Most of retirement communities have been reducing the number of nursing beds that they have. All the while building more independent apartments and cottages, and they are filled with people that are first in line to take any of the nursing beds that become available.
Additional Options
So, what other choices do you have? Well, there is family care. This can be a good choice for some but it needs to be explored with many serious and realistic conversations. Who will provide care? What level of care will be provided? What are the expectations of the primary caregiver by those other family members not providing care? Another choice would be home health agencies. This can be a great resource to provide total care or as a supplement to family care. The number of companies and services offered continues to grow.
I hope you found this quick overview helpful. There are many other factors to consider and everyone's circumstances are different. That is why at Stewardship Advisors, we believe in walking with you on your journey and making it specific to you. If you would like to have a discussion of your specific circumstances, just give us a call. (717) 492-4787
Like this article? Want to learn more about planning for your retirement?
Check out our Retirement Archives where we've compiled helpful tips and tricks to help you plan for your future.