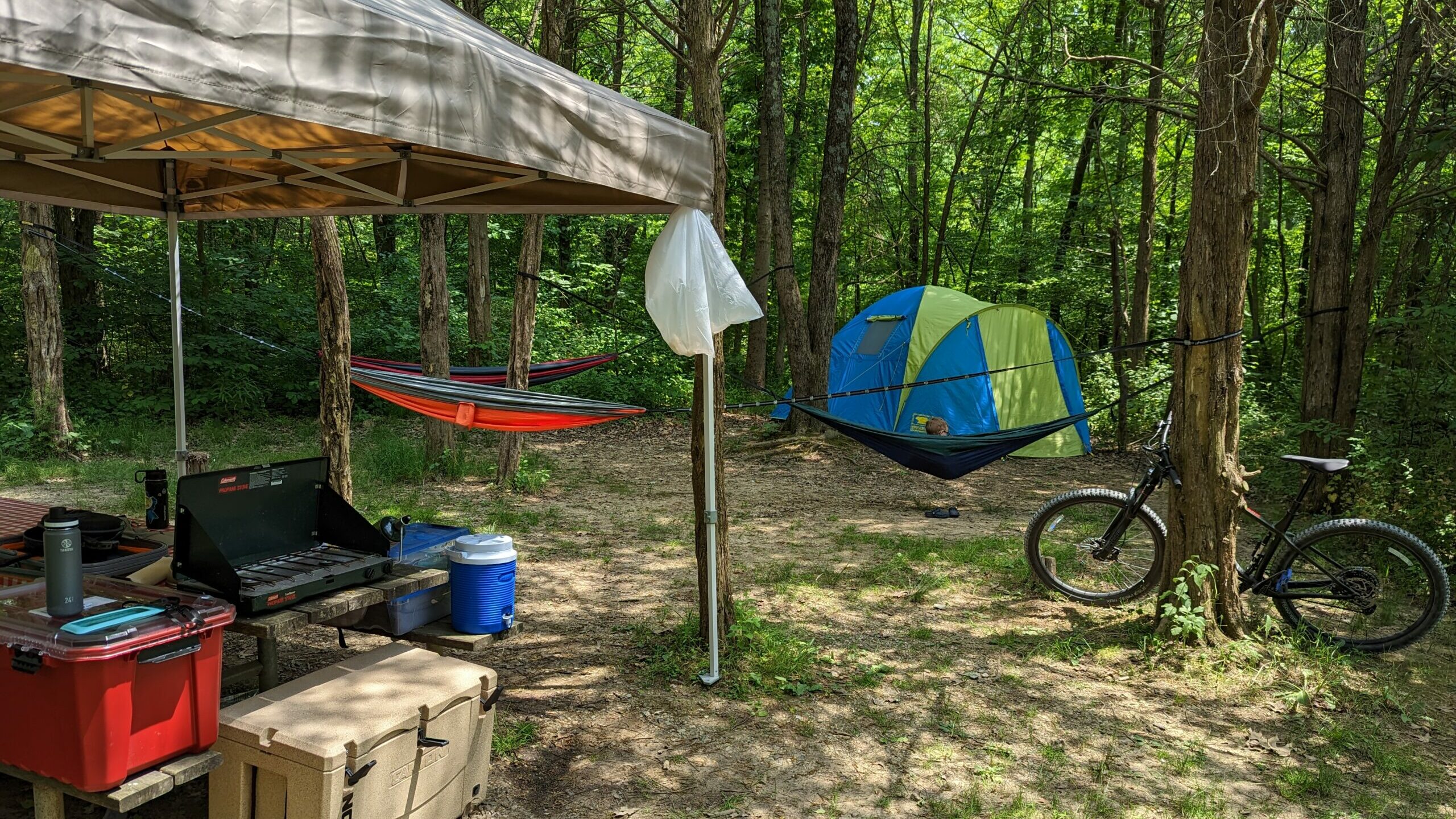 personal finance
Embracing Rainy Adventures: Reflections on Camping and Financial Planning
Greetings, fellow adventure seekers! As I sit here, comfortably within the protective confines of a four-sided canopy, I find myself contemplating the whims of nature. A downpour surrounds our tent, where my six and nine-year-old boys are sleeping, and yet, thanks to our well-equipped shelters, we remain blissfully dry. It brings to mind a saying that has become a mantra for my family: "There's no such thing as bad weather, just bad gear." This notion has guided us through countless outdoor escapades, reminding us that preparedness is the key to conquering any challenge (see Thomas' recent blog post for another great discussion on preparedness.)
The very canopy I write from today was a direct result of a past camping experience that tested our resilience for family tent camping. Picture this: another rainstorm, forcing everyone to seek refuge in the cramped confines of our car. I valiantly attempted to cook tacos on a camp stove while juggling an umbrella. Needless to say, it was a comical sight, prompting me to reflect upon our gear choices. It was then, after careful consideration, that we decided to invest in a sturdy canopy (although my wife argued for the comfort of Airbnb accommodations). But our decision to opt for the canopy was rooted in something deeper—a firm understanding of our "why," our purpose for venturing into the great outdoors.
Interestingly enough, reflection plays a pivotal role not only in camping adventures but also in the realm of financial planning. Our holistic approach to financial planning commences by completing our Personal Insights About Money Questionnaire to unearth some of your earliest money memories that shape your financial behavior today. The journey culminates with our Personal Insights About Change questionnaire, providing valuable self-awareness along the way. But why is reflection such a crucial component of our financial planning process? Allow me to shed light on this matter:
1. Understanding Your Financial Decision-Making: Reflection grants you the opportunity to unravel the intricacies of your financial choices. For instance, one of my earliest money memories revolves around butter containers—a lesson in budgeting imparted by my parents. While my budgeting system has evolved to more sophisticated tools today, the significance of this lesson has stayed with me throughout the years, as I endeavor to instill similar values in my own children.
2. Embracing Your Ideal Future: Society often imposes its standards and expectations upon us, dictating what our lives should look like. Through reflection, you can break free from these constraints and contemplate what truly matters to you. Our questionnaire, "Personal Insights About Life Balance," acts as a guiding compass, helping you identify the elements of life that are important to you and nurturing your vision of an ideal future. Our process does not start by asking you to list your goals because, let's be honest, many of us have not given much thought to specific financial planning goals. However, I think many of us can say that when we have a quiet moment of reflection, we can often conjure up a vision of our ideal future…and that's what our process captures through our questionnaire "Vision of Your Ideal Future."  It is only once that reflection is complete that together we can develop goals to support your ideal vision.
3. Uncovering Your "Why": I've previously recommended Simon Sinek's powerful book, "Why," and its influence permeates our entire financial planning process. We firmly believe that starting with the "why" is essential, as it forms the bedrock of a purpose-driven financial journey. While many planners prioritize the "what" – investments, insurance, and the like – we urge you to begin with introspection. By understanding your underlying motivations, the subsequent steps will naturally fall into place. New York Times columnist Carl Richards coined the phrase "The Behavior Gap," which he basically describes as the distance between what we should do and what we actually do when it comes to money. If we identify our why, it can drive our motivation to close the gap.
It is important to note that our financial planning process may not be suitable for everyone. It requires active engagement and a willingness to invest time in reflecting upon both past experiences and future aspirations. Yet, for those who seek a comprehensive approach that intertwines personal growth with financial well-being, it holds the potential to transform your life.
As I bring this blog post to a close, I can't help but find irony in the fact that the rain is ending as well…and everyone is still dry! Truly, the unpredictability of nature mirrors the uncertainties of life. However, armed with the power of reflection and preparedness, we can weather the storms that come our way.
Schedule an introductory phone call with Mark at this link: Mark Brinser – Introductory Phone Call
Like this article? Check out our Investing Archives where we provide insights to help you weather changes in the market.