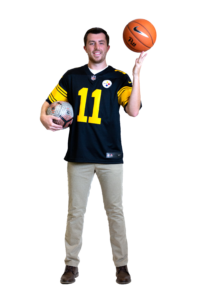 Logan D. Kready
On the personal side:
Logan was born and raised in Lancaster County, and currently resides in Manheim. When he's not working, Logan enjoys playing soccer and basketball, watching suspenseful TV shows, spending time with his family, and walking his miniature Goldendoodle, Bentley. He is passionate about traveling to new places and loves outdoor hobbies – especially skiing in the winters and kayaking in the summers!
Something you may not know about Logan: 
Two of his favorite collegiate experiences include being a manager of the University of Pittsburgh Men's Basketball team and spending a summer interning abroad in Berlin, Germany. As a basketball manager, he helped lead the recruiting efforts for Coach Capel, and when he was working in Berlin, Logan took a few weekend trips to see Prague, Barcelona, and Rome.