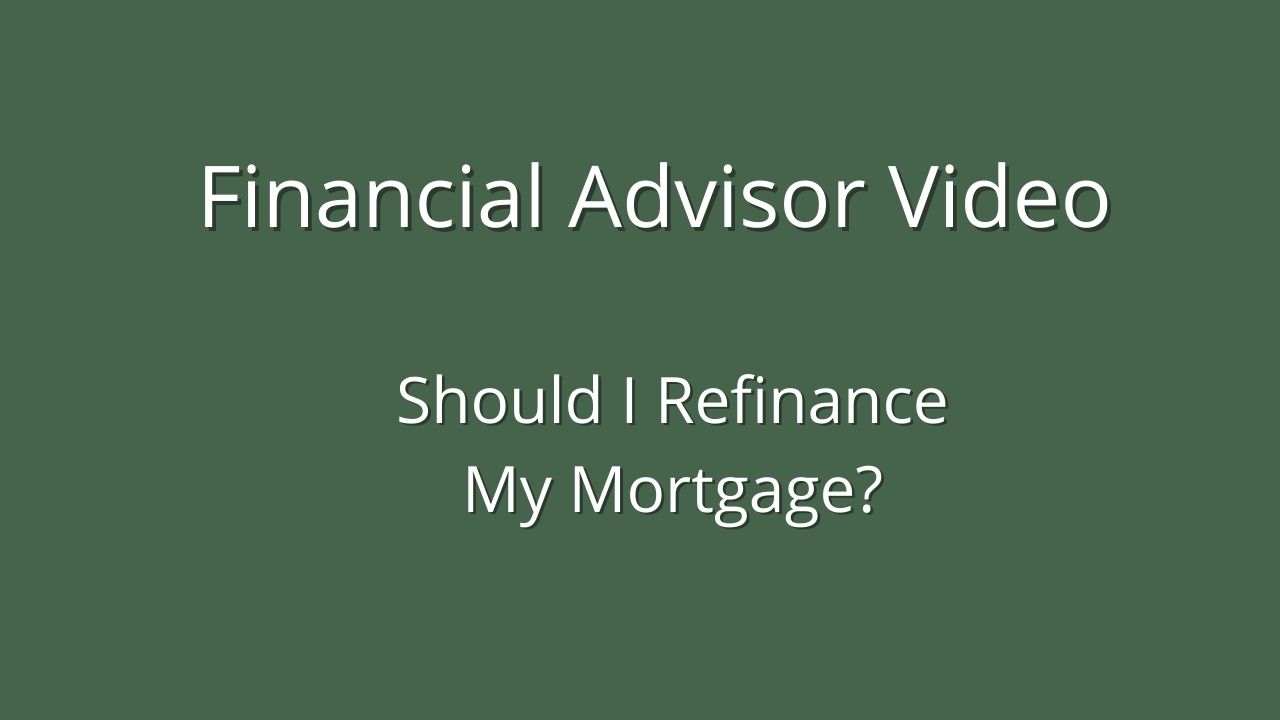 personal finance
Should I Refinance My Mortgage? – Financial Advisor Q&A Video
Video Transcript:
Hi everyone, my name is Mark Brinser, and I am a Certified Financial Planner (CFP) with Stewardship Advisors, which is a fee-only financial planning firm here in Mount Joy Pennsylvania.
Over the last couple of months I've been getting this question quite often from people as they have seen the advertisements that interest rates are at historic lows. They are often asking me "Is now the appropriate time to refinance and what are some of the things I should consider if I am looking to refinance?"
3 Things to Consider When Refinancing Your Mortgage
1. Is the interest rate low enough?
So for me, there are really three key points that I take a look at when anybody is considering a refinance. The first thing to look at: is your new interest rate going to be at least 1% better than your old interest rate?
If it's not going to be, then generally speaking the second and third points I look at are not going to make sense. So if the new interest rate is not going to be 1% better, you don't even really need to move on to the next two points.
2. Time to Cover Closing Costs
But if it is (going to be better than 1% of your current interest rate), then we move on to point two which is the break-even analysis. Basically a break-even analysis is just looking into how much time is it going to take you to recoup the cost of the closing. So in other words, when you do go into a refinance, there are going to be some closing costs associated with that – just like when you're buying the house the first time. So if we look at a house refinance at about $300,000, we're just going to use a round easy number of $4,000 for your closing costs – could be higher could be lower depending on your mortgage broker and what they charge. That's going to be the cost to refinance.
In our scenario $4,000, so if you are interest rate is going to go down by 1.25% you're basically looking at saving $3,750 over the next year vs your closing costs of $4,000. What that break-even shows us is that in the span of about 13 to 14 months you are saved enough an interest to offset the closing costs that you paid to refinance. That's a pretty good payback period.
Any time that you get a break-even analysis that shows payback period of two or less years, it usually makes sense to go ahead and move forward with that refinance. However, anytime that payback is for five years, that's when you need to consider if it's really going to be worth it over the long-term and how long you going to be in the house.
3. Duration of the Loan
Finally, the last point is we want to make sure that when you do refinance, it's going to at the very least lower your interest rates, but if it can also shorten your time period and shorten the duration of the loan. As long as those two things are working together then you got three really good points of looking into refinancing.
So, again a general rule of thumb:
1% better than you're currently getting on the interest rate as a good place to start
Then do your break-even analysis
Finally, make sure it's hopefully going to shorten the time period of your loan
If you have any questions on that or want to look into your situation don't hesitate to reach out to Stewardship Advisors.